What's behind our color?
How does Uptown Color deliver such great print quality? By investing in the latest – and best – print technology available. But even more important than that, each piece of equipment in our Richmond, VA shop – from scanner to digital press – is run by the most highly trained technicians who've worked on countless jobs just like yours. Each day, this winning combination of technology and talent turns out finished print products that satisfy our customers and keep them coming back for more.
Here are just a few of the cutting-edge workhorses we use to produce your print jobs (Learn about us to find out about the people behind the machines):
---
Xerox iGen 150 Digital Press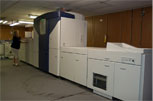 The latest of Xerox's color printers, the iGen 150 delivers color consistency and image definition that rivals offset. Not to mention, it prints on a wide array of substrates, including mylar, polyester and magnetic materials (ask us about specific stocks), and it's Richmond's only 14.33 x 26″ sheet digital press. Ask about our new stocks, which include linen, felt, and 130# matte and stipple finish. By running non-toxic dry inks and reducing waste (by only printing what you need), the iGen 150 also helps minimize your carbon footprint.
---
Roland Versa-Camm VS Series Wide Format Printer/Cutter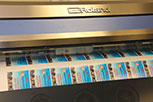 With the industry's most advanced print head technology, integrated print/cut capabilities, superior media handling and print speeds up to 248.6 sq. ft. per hour in dual CMYK mode (64-inch model), the VS wide format printers set a new standard for digital printing equipment. The VS series also uses metallic and white inks to add impact to any graphic for attention-grabbing results that elevate your brand message.
---
Paradigm Image Pro GxT 42 HDplus
This scanner produces fast, high quality scans of large format photographs, artwork, maps, site plans, and any other documents that require a wide color gamut and high dynamic range up to 9600dpi. Original images can be captured from media up to 42 wide by any length and provide motorized thick media scanning of mounted originals up to 3/16″  thickness.
---
Xerox D125 Black and White Copier/Printer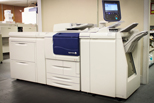 Yes, it's just a brand new black and white copier, or is it? This new addition to the Uptown family of Xerox products is the most advanced black and white machine on the market. The D125 is fast and flexible giving your business the ability to produce manuals, forms and books that are affordable and have unsurpassed image quality while being environmental friendly.
---
Xerox Color 800 Press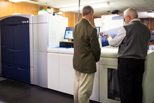 Do you want to get really creative? You want the Xerox Color 800 for your next print job. Enhance your creativity using clear dry ink to add a subtle, professional watermark or to draw attention to a headline or logo by building a 5th color to enhance your next print piece. This works great for tickets, adding a "do not duplicate" that is non-reproducible. Just ask us how to design your next piece to incorporate this visual effect to outshine your competition. In addition to the clear ink, the Xerox Color 800 delivers outstanding mid-tones, crisp text and excellent photo rendering while being environmentally friendly.